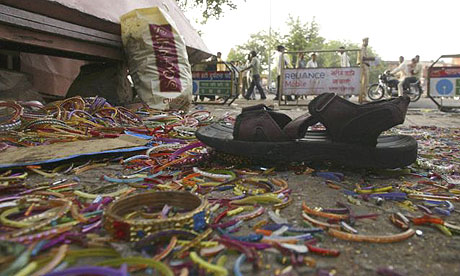 7 blasts, 60 dead, terror strikes the Pink City of Jaipur and life goes on. Another typical we-are-united-in-adversity response from the UPA government. There is no doubt that terrorists targeting India have it easier than other countries because of democracy's fallacies and India's soft-hearted response to every attack on the mainland.

Terrorism's latest episode was smartly planned and executed and targeted a city that has never seen such kind of ensuing chaos and despair. Being a hotbed of Indian tourism, Jaipur was always thought to be a city safe from such dastardly, inhuman acts and was never on the priority list of India's probable targets.

We, the people, meanwhile continue to remain unfazed by this bloodbath as we have done so for many previous attacks. We live on. The cold war is being smartly played by cross-border foes who have now praised India's response and are trying to assert their "friendship" on us. Let's just hope we send a message sooner rather than later. Vulnerability, complacency and the feel of defenselessness are eating us from within.

May God bless the victims and their kin.